Everyone always tells you that tattoos are for life. They are permanent. And to some extent, they really are. But sometimes, you might want to temporarily remove a tattoo. For example, perhaps you need a professional work photo and want to remove that giant tattoo of a cartoon cat on your arm.
Maybe you don't want a tattoo of your ex's name in your prom photo, or your mum wants to get rid of your tattoo to send a picture to grandma. There are a million reasons why you might need to hide your tattoo for a bit.
You can use make-up, but it needs to be super full-coverage to properly hide something as dark as a tattoo. You'll be using a whole bottle of foundation and a tonne of setting powder to get it to stay. And even then, it's so hard to get the shade right you'll probably end up with a weird orange patch.
And it can smudge and fade and wash off. Honestly, it's just such a pain.
Of course, you could get rid of your tattoo permanently. However, if you can't afford the $$$ for laser removal, editing out your tattoo takes just a few seconds, doesn't hurt, and won't cost a fortune. All you need is a good photo and Facetune2 selfie editor app.
Step 1 – Open the photo you want to edit in Facetune2
Step 2 – Scroll along the main menu bar and select the Patch feature
Step 3 – Depending on the size, location, and colour of your tattoo, you now have two options.
Option 1- Using the Patch tool, highlight your tattoo. Move the highlighted area to match your existing skin tone and replace the area where the tattoo is located.
Option 2- Using the Vanish tool, select the area of your tattoo. Make sure you get the entire area, or the automatic vanish tool won't work properly. Then, wait for the app to do all the work!
Step 4 – If you make a mistake, use the undo tool in the screen's bottom-left corner to start again. You can also zoom in on the tattoo to make it easier to select, and you'll make fewer mistakes.
Step 5 – If the area doesn't match your natural skin colour, you can head back to the main menu and choose the Retouch function. Here you can use the Heal, Smooth, and Conceal tools to make the area a perfect match to the rest of your skin. Remember to save your newly edited photo to your phone, or you'll lose all your hard work.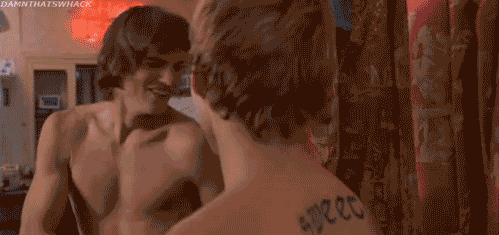 And voila! You've got a perfect tattoo-free photo to send to your grandma. Here's to taking those perfect mirror selfies every time.